The Andaman Islands 2018
18/12/2018
Well 6 of us went after the GT's off Havelock Island travelling Heathrow to Chennai, Chennai to Port Blair with an overnight in a hotel then a fast ferry the following morning to Havelock Island. We arrived at the port on the island to chaos as this was the first day of a public transport strike so no taxi, minibus or Tuk Tuk available just protesters so no alternative but to walk to the hotel. We were lucky because the owner of Captain Hook's Sport Fishing Qutub met us at the port and took our main luggage and rod tubes but he came in for abuse of the protesting taxi operators.
We arrived at our hotel the Aparupa Sands Marina hotel which had perfectly acceptable accommodation for us all in single rooms, the trip had been arranged through Martin Founds at Anglers World Holidays and was very well organised.
The first afternoon was set aside for setting up the Tackle and trying to find somewhere for a cold beer as they are trying to turn the Andaman's dry so finding beer was difficult and expensive!
The following day was to be our first days fishing but were informed that due to the strike all boats including fishing and dive boats were not allowed to take passengers so no fishing that day. The strike was called off the following day so out we went, we were lucky as we had tagged on a couple of rest days at the end of the trip so we just swapped the days around and didn't lose any fishing.
We had booked 3 boats fishing 2 to a boat, 2 of the boats were fine but the one boat only had a 60hp engine so was very slow and struggled to reach some of the marks so we swapped boat every 2 days to be fair to everyone.
The skippers and deck hands were very good and were non stop trying to put you on the fish as well as giving encouragement, we also had a good laugh with them which I feel is a big part of the trip.
The fishing well we all decided it was to be mainly popper fishing with a bit of trolling between marks so we knew it would be hard work casting 150 gram plus poppers especially as there was a good wind every day.
We had to work hard for the fish and they weren't really on as we had a lot fish come up and just turn before taking the popper, we used stickbaits as well to take a few fish but popping was more successful.
We all enjoyed our trip to the Andaman's the people were very friendly and helpful. I left my MC Works fighting belt with split ring pliers and saltwater pliers attached to it in a taxi taking us to the port for an early morning session, I didn't realise it was gone until I was on the boat but later that night the taxi driver found me at the hotel to return it. Tipping on the boats is not expensive at around $20 per person per day. Meals included breakfast at the hotel and lunch on the boat with as many soft drinks or water as you want so we only paid for evening meals which worked out £15 including a couple of beers plus starters.
We left the port around 7:30am and returned at 5:00pm well knackered but taxis were always waiting for us to take us back to the hotel for a chat with everyone and see how all us had got on and a beer if the bar had any. Fishing around some of the 562 islands was particularly breathtaking at times as they are all heavily forested right down to the shore and apart from the odd local fishing boat we never saw a soul.
Qutub and his wife who owns Captain Hook's Sport Fishing are a lovely couple who run a well organised outfit and are genuinely concerned everything is right. The day after we arrived Qutub visited us at a restaurant to apologise for the strike but he looked in a lot of discomfort and the following day he had to be flown to Chennai for an operation on a kidney stone and to have stent fitted. after a few days in hospital he flew back and insisted on taking us out for a lovely meal as an apology for not be available during our stay.
Fish wise between the 6 of us we probably had 30 plus GT's, Sailfish, Wahoo, Barracuda, Grouper, Big Eyed Trevally, Bluefin Trevally, Queenfish, Spanish Mackerel, Bohar Snapper and a couple of other we were not sure of the names.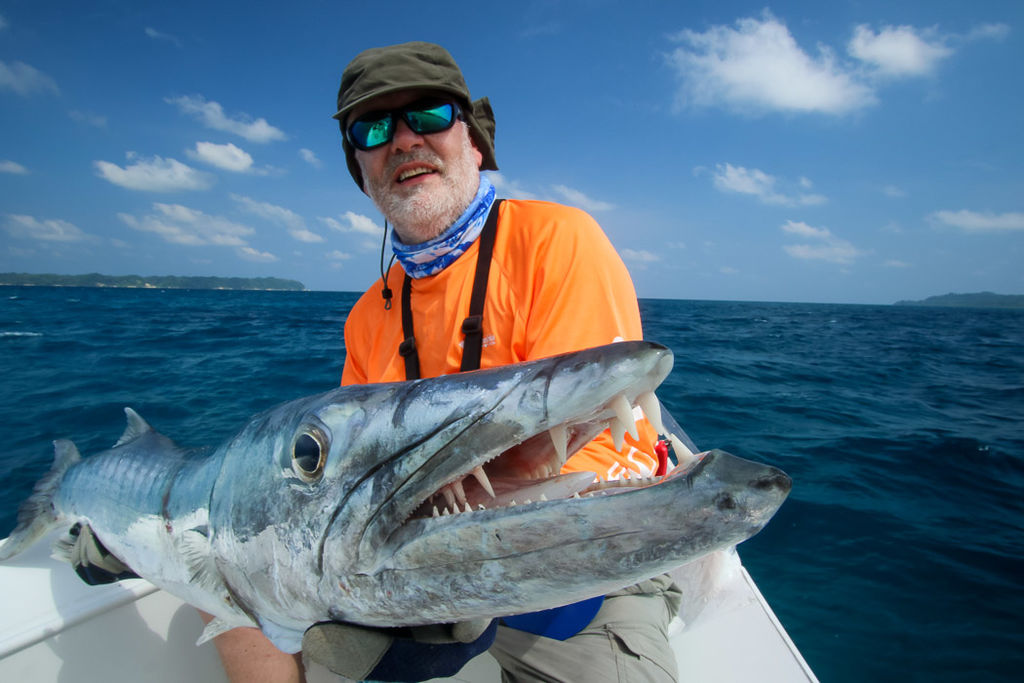 We booked an extra day on Calipso a much bigger boat powered by a 250hp engine this was as we wanted to go to Barren Island with a live volcano which is a 2 and half hour trip even with this boat. It was an impressive place unfortunately on the day it was surrounded by mist so poor for the photography.
Would we go back, yes I think we would as there is some unfinished business there as we saw some very big fish that were only hooked for a short time. My mate lost a beast on the last day after playing it for quite while and winning the battle only for it to dive as it neared the boat and reef him!
We will return.