Christmas Island February 2016
29/02/2016
Well it was a trip with plenty of talking points but for all the wrong reasons!
We had a few days in Honolulu relaxing and taking in the sun also found the Waikiki Brewery just around the corner from the hotel so spent quite a few happy hours chilling out plus watched the Super Bowl for 4 hours plus visited Pearl Harbour.
A good 3 hour flight down to Christmas Island though pretty cloudy and bumpy as we got nearer ( that should have been a warning sign)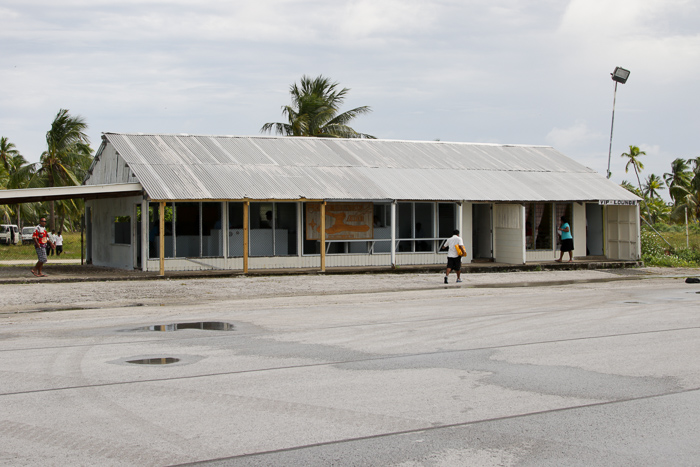 A very relaxed arrival as they only have one flight a week so there is no hurry and officialdom but it had just stopped raining, fishing licences purchased $50 in to the mini bus and of to the lodge.
We stopped at Ikari House Lodge which has good twin bedded rooms with air conditioning and on suite shower, flush toilet and sink. The drinks are on a help yourself service with an honesty board to mark off what you have had, for food we had lobster with steak the first night then choices of 2 mains all week well cooked. Breakfast was american styled as well as fruit and cereal, for lunch when out fishing you had sandwiches and help yourself crisps, fruit, cereal bars and chocolate to take with on the boat in the cool box.
We fished 2 to a boat which was fine when we could stand up!
The above photo shows a nice sunny morning with palm trees hardly moving in the breeze but I am afraid the reality was totally different. El Nino has had a major effect this year with stormy weather and rough seas, while we were on the island we had one sunny day still breezy as the day progressed the rest of the time heavy rain at time you could see about 20 metres and large swell for the offshore fishing which was what we had gone for. The boats are fine for normal sea conditions but were less than ideal in heavy swells the one we used most of the time had a 40hp engine so struggled when offshore, also the conditions had put the GT's down at were not really interested in coming up for poppers it was also difficult to present the poppers properly. Every day we came back exhausted and dripping wet from the continual rain then putting on damp clothes for the next day as we ran out of dry clothes and when we did catch we could not photograph because of the conditions.
We had a few GT's plenty of Barracudas which destroyed some expensive poppers, small YFT up to 30lbs mind you there was 2 Korean fishing boats in the bay all week fishing for the tuna until there holds were full.
We also had the odd Wahoo while trolling plus a trip in to the lagoon to get away from the waves saw Triggerfish and Bonefish but again struggled some of the time to photograph because of the rain.
It was a great bunch of lads and we made the best of a bad job unfortunately you can't do much about the weather, we talked to one yachtsman who had sailed down from Alaska and had been waiting 3 months for the sea to calm down to start his return journey.
Here are some images on the day the sun actually shone!
Also at the camp flyfishing for Triggerfish was Eric le Guyader of Orion Lures great chap telling us about his 65kg GT from Oman last year on one of his own lures.
Our return journey was not without adventure as with only one flight a week there is always doubt in your mind so Wednesday morning up a 4am of to airport at 4:30am wait at airport 3 hours to be told the plane had problems and turned back to Fiji but may come later. Back to lodge for a couple of hours then back to airport at 12:30pm 4 hours later plane further problems turned back again but there may be a plane Sunday!!!!!! Wake up following morning at Lodge one of the lads managed a bit of Wifi as no phone signal on island , he had a message off his wife saying Air Fiji plane arriving lunchtime on island the manager of the lodge contacts airport manager who was still in bed he knew nothing but said he would check we just repacked and 2 hours later on the way to the airport for the 3rd time. At just after 1pm a plane arrives we board but are then taken 6 hours in the opposite direction to Fiji instead of Honolulu also another 2 hours on the time zones, 4 hours arguing in Fiji airport and then they put us on an 11 hour flight Los Angeles this time plus 4 hours time zone then we sort out flights in Los Angeles 4 hours after landing boarding next 10 hour flight to Heathrow and plus another 8 time zone, oh I forgot we gained a day as Fiji is a day in front of us. We were also very lucky a Cyclone Winston hit Fiji the day after we arrived back killing 29 people and causing devastation apparently the worst Cylone to ever hit the southern hemisphere so we can't complain that our fishing was ruined by bad weather.
At the end of the day if you have a great bunch of lads who just get on with life regardless of what life throws at you you will always have a good trip.
Right I need another holiday!